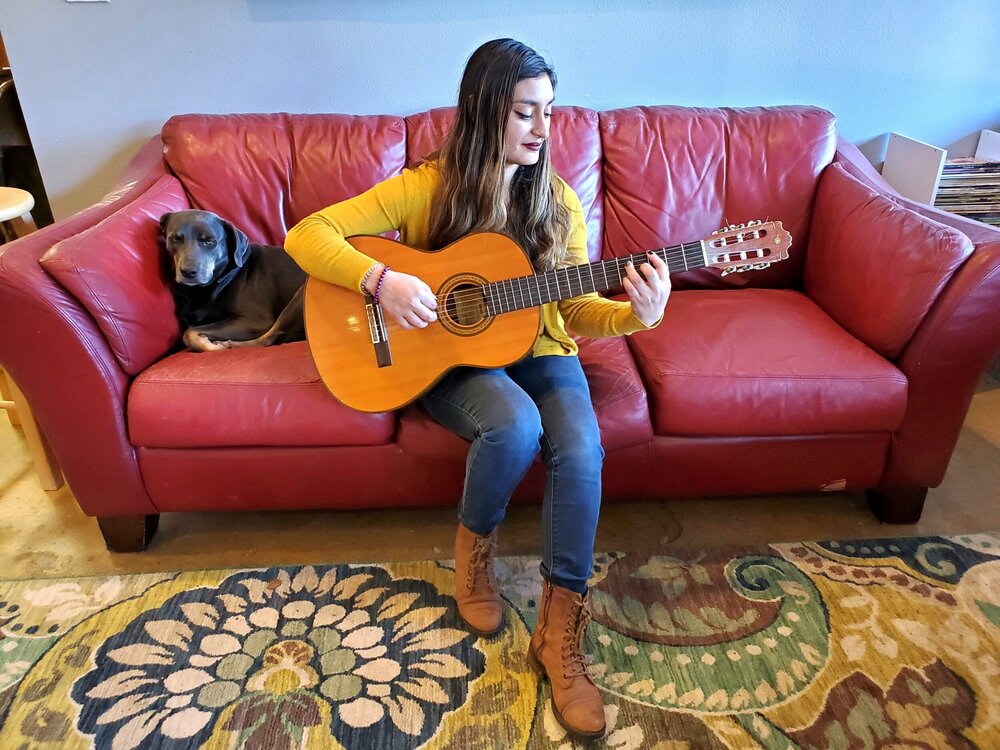 Cynthia teaches Acoustic Guitar, Piano, Voice, Uke, Electric Bass & Songwriting classes…
Cynthia Welch hasn't known a world without music, or even any memories without being able to play an instrument. By the age of 4, she was already simultaneously singing and playing the guitar. In conjunction, she learned how to play the bass guitar, piano, drums and ukulele. Her father was a music instructor and she spent much of her childhood in the classroom and became so familiar with the environment, it became home. She even helped teach children beginner classes for her father by the age of 12, and perfecting the ways of keeping kids engaged and excited about music. Cynthia started performing at an early age, with her first audience being in a church at the age of 5. At the age of 8, she performed on live television in front of a crowd thousands on 3ABN, and later went on to perform on professional holiday floats in parades. She has performed onstage at the Meyerson Symphony Hall in Dallas with an accompanying guitar ensemble in which she helped arrange and write the music in which her father conducted.
Music has brought so much beauty into her life and she could never imagine a world without it. Her ultimate goal is to share her talents and love for music with others, especially children, and to help abandon the myth that musical talent belongs only to a select few. Her teaching style is student-centered and wishes to give every student the opportunities and guidance to develop their fullest musical potential.
Cynthia's purpose in life is to show the world that music is a valued form of communication and self-expression, and being able to create music through instruments, the voice, and songwriting is unlike any other tool that can be obtained on Earth.