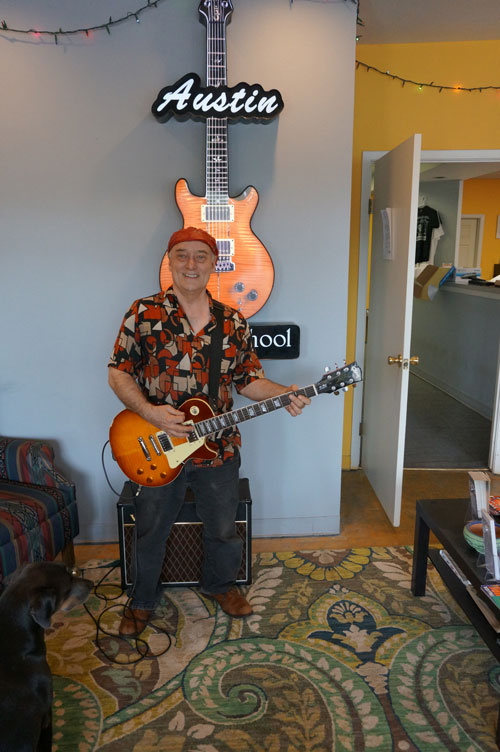 Ted Teaches Acoustic guitar, Electric guitar & Electric bass..
Ted teaching styles on Acoustic are Folk, Country, Fingerstyle/Delta Blues, Pop & Rock as well as all styles of Electric advanced Blues, Rock, Funk, Latin, Fusion, Rhythm & Improv, Theory, Harmony & Beg. Jazz Styles…..
Ted divides his time between Directing/Teaching at AGS, giving seminars & presentations on Texas Blues, performing with his band "The Pleasure Cats", hosting his weekly Blues Jam at various venues & preparing serious students to perform @ our student showcases/gigs around Austin.
Ted began playing guitar at age 8. Acquired his 1st Electric Guitar at age 11 & started giving lessons to friends and family when he turned 15. Ted played in local bands in high school & began attending Westark Community College/University of Arkansas (Ft. Smith Ark.) in the fall of 1974. Studying Mechanical Engineering & Music, Ted continued to play in many local bands & teach Guitar till he hit the road in 1982 where Ted toured for almost 3 years non stop performing in 37 States , Europe & 2 times on the North Pole playing military Bases. By then it seemed time for Ted to take a break from road life. He managed a music store in Houston, in addition to teaching and playing in local bands including short stints as a backup Guitarist for Dale Watson & Roy Head. Moving to Austin in early 86, Ted managed a music store for 1 year before founding the "Austin Guitar School" August 1, 1987 with himself as the only instructor with 15 students. The school has grown through the years with over 250 plus students taking weekly classes, AGS is now in it's 35rd year!
Ted also taught Blue's & Rock Guitar clinics/ workshops for the the University of Texas & the National Guitar Summer Workshop in New Milford Conn. Chicago Ill. & Austin 1996-2012.
Teaching at the workshop Ted performed with Debbie Davies, Ronnie Earl, John Primer, David Grissom, & Red Volkaert..
Living in Austin Ted also has worked, performed & recorded with many of Austin's musical legends including Rusty Weir, Tomas Ramirez, Tony Campise, TD Bell & the Blues Specialists, Paul Klemperer, Stop The Truck, Alan Haynes, Van Wilks, Tommy Shannon & many more….
Ted toured Italy & England in 1997, 1999 & 2003 performing his own music including lots of Texas Blues & also taught seminars, guitar clinics on guitar improvisation & Texas Blues….