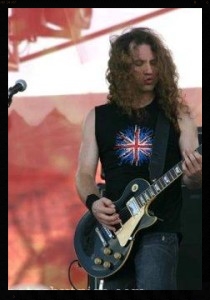 Paul teaches Acoustic guitar, Electric guitar, Piano, Voice & Drums..
Guitarist for Dangerous Toys. Paul Teaches classic rock, hard rock, metal, alternative, blues, folk, country, fingerstyle and classical. Teaches levels beginner to advanced.
Paul Lidel was awarded "Best Guitarist In Austin,TX" in the Edge Magazine 2003 readers poll, and his band "Dangerous Toys" has sold over one million albums worldwide. He is the author of several instructional books and videos including "The Pro Guitarists Handbook" and "Beginning Rock" which became the #1 best selling guitar instruction DVD on Amazon.com. Paul has over 25 years of teaching experience and has taught at the University of Texas, and the National Guitar Workshop.He has been teaching at Austin Guitar School since 1994, and has become known for being very patient and inspiring to his students.
Paul teaches beginner, intermediate and advanced levels, in a variety of styles including rock, metal, alternative, blues, folk, finger picking, and classical. His teaching style is song oriented. Paul believes that the most fun way to learn to play, is by learning songs that you like. His goal is to make learning fun for his students. Over the years he has developed a unique way simplify even complex musical concepts and to help his students reach their goals. In addition to teaching guitar, Paul also teaches voice and piano at the Austin Guitar School.
Paul is available for online lessons only.
Monday- Fridays..
Check scheduling for available times & days..