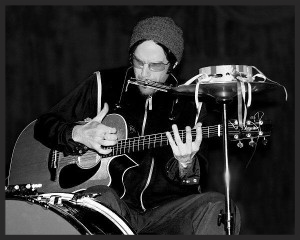 Jesse teaches Acoustic guitar, Electric guitar, Electric Bass, Dobro, Lap Steel, Uke, Banjo, Violin & Drums…
Jesse is originally from Tupelo, Mississippi and has been playing guitar since the age of 14. At 16 he was playing juke joints and nightclubs around Mississippi and Tennessee, and at 18 moved to Memphis and started playing pickup gigs with mostly Rhythm and Blues singers.
Jesse spent a year and a half as guitarist for Ollie Nightingales Express Band. Ollie was on the legendary Stax label in the 1960's and is known for several hits including "May the Best Man Win" and "I know I Got a Sure Thing".
In 1995 Jesse traveled to Germany to perform a six-week festival tour. Upon his arrival back in the U.S.A., he formed the Funkhealers, a mostly funk free-form band. The Funkhealers played on the historic Beale Street in Memphis for 2 years, as well as touring through Alabama, Tennessee, and Arkansas. Jesse has played on shows with many performers such as Delta Blues guitarist, Son Thomas from Leland Mississippi, J.D.Sumner, the Stamps Quartet, B.B. King and The Bar Kays just to mention a few.
Jesse now resides in Austin, Texas where he performs his One Man Band Show that includes Guitar, traps, harmonica, vocals along with various other instruments including the banjo, washboard and the kazoo.